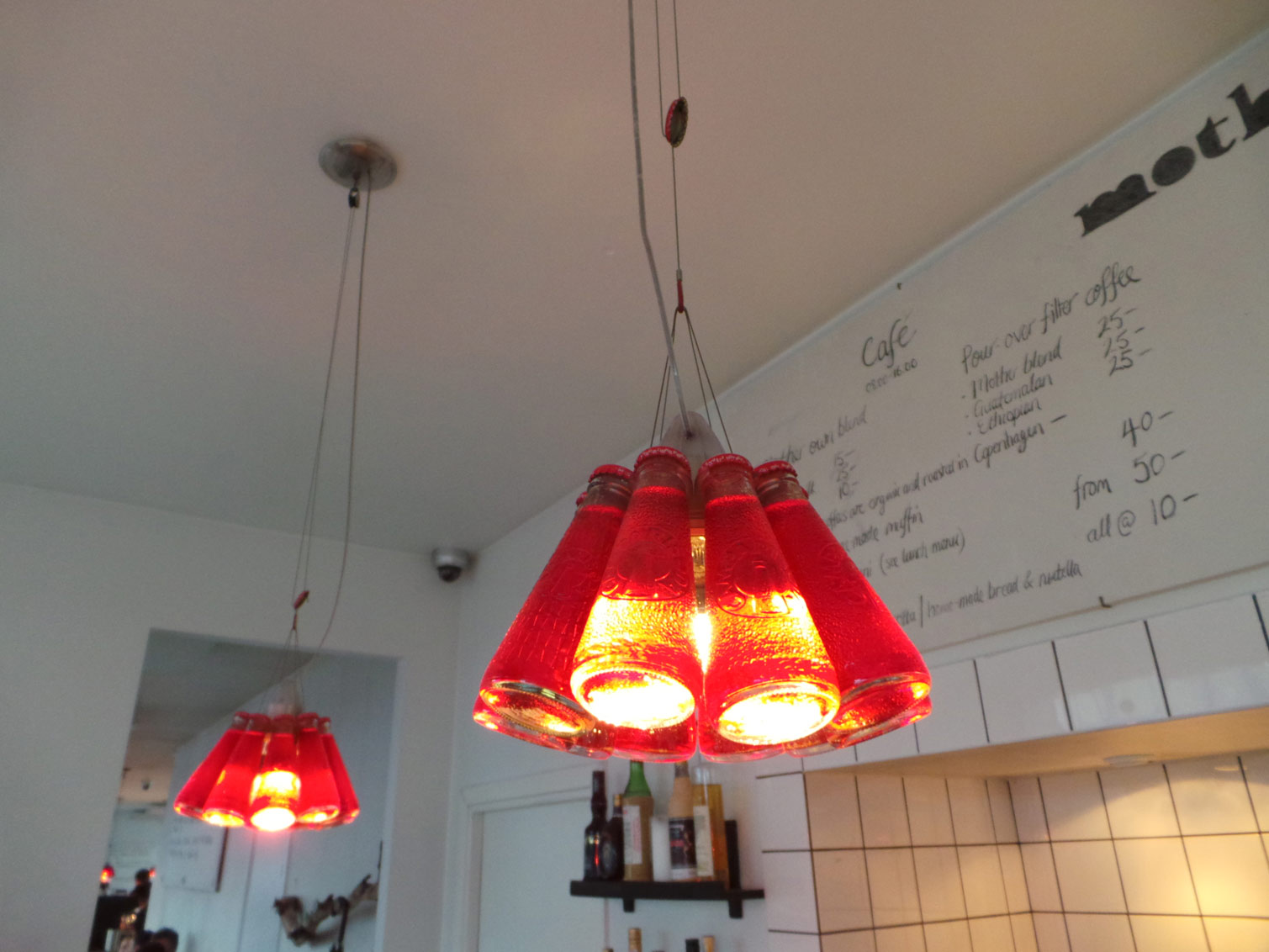 Exhausted at the end of a long day of art and shopping. I made my way to the "Meatpacking" district in Copenhagen, modeled after the success of its New York twin. This meatpacking is still in its infancy and is still mostly good food and good art. Exactly what I wish it still was in New York. Mother pizzeria (mother.dk) is on the list of local spots to try while I am in Copenhagen. As I approach it's jammed, there is a chalkboard announcing the wait for a pie is 45 minutes and everyone is enjoying themselves a bit to much for it to seem real. I am greeted by David Biffani learning later he is not only from Rome, he's co-owner and head chef. It is a true Italian greeting, welcoming and business all rolled up together. I put my name in and head to the bar for a cocktail while I wait. Very happily I discover they have Campari spritz and they actually know how to make them perfectly.
I have a feeling I am in a locals favorite spot. This was confirmed when David pushed me to invade a communal table filled with other guests while we waiting. They were Italian as well and the theme was starting to sink in. These young gentlemen are architects and engineers moved to Denmark as a part of a massive team from the Italian company contracted to build the new metro line for Copenhagen.
Two cocktails later we migrate to our table together. David is having none of my sitting alone as planned. We place our pie orders and are then joined by David himself as well as another Italian engineer, who eerily looks like Stefano Pilati's little brother. Now to the pizza! As good as anywhere you'll ever have it. Ingredients that I find out are mostly imported from specific regions of Italy known for their mastery be it salami, flour, or olive oil and onward. The pizza crust is a perfect crispy sourdough cooked up in the wood fired ovens each day after being crafted from their "mother" dough. The spots name is an attempt to dispel the clichés of Italian restaurants outside Italy but is truly at its heart an homage to the dough itself. The starter for the mother dough was procured at the restaurants opening and was then three years young. It is now going on a decade in the making. We ate on the later side and before we were done with our meal the dough was finished for the day. The pizza is so good I can see why they run out.
David then took us on a fieldtrip to Mother's offices across the street, through a locked gate, a locked door and into a huge basement bound meatpacking elevator that made me think. "I don't really know these guys…this is either going to be really cool, or really bad." Good news it was really cool. We got to peek into Mother's underground headquarters and take a look at the collection of young Danish contemporary art David is amassing. Christian Andersen's (christianandersen.net) gallery is just next door to Mother and that works out well for David with this quest.
We headed back to our table and closed the restaurant down along with a production team in town filming a fieldtrip for the latest cycle of Holland's Next Top Model. A mix of local's and visitors Mother felt like somewhere very special and at the same time somewhere I'd been a hundred times before. I had completely forgotten my earlier exhaustion and embraced what was a very memorable last dinner in Copenhagen. Thanks David.
høkerboderne 9-15, 1712 københavn v / Sun - Wed 11am - 11pm / Thurs - Sat 11am - 1am